NEO
Your very own Tiny.
Starting from 1.45 million CZK + VAT
GIVE ME A QUOTE
Within 8 weeks of ordering,
you can be drinking coffee on the terrace overlooking the landscape of your heart.
An affordable home in the countryside, a first home close to your work, a getaway in the countryside, for empty nesters, for digital nomads...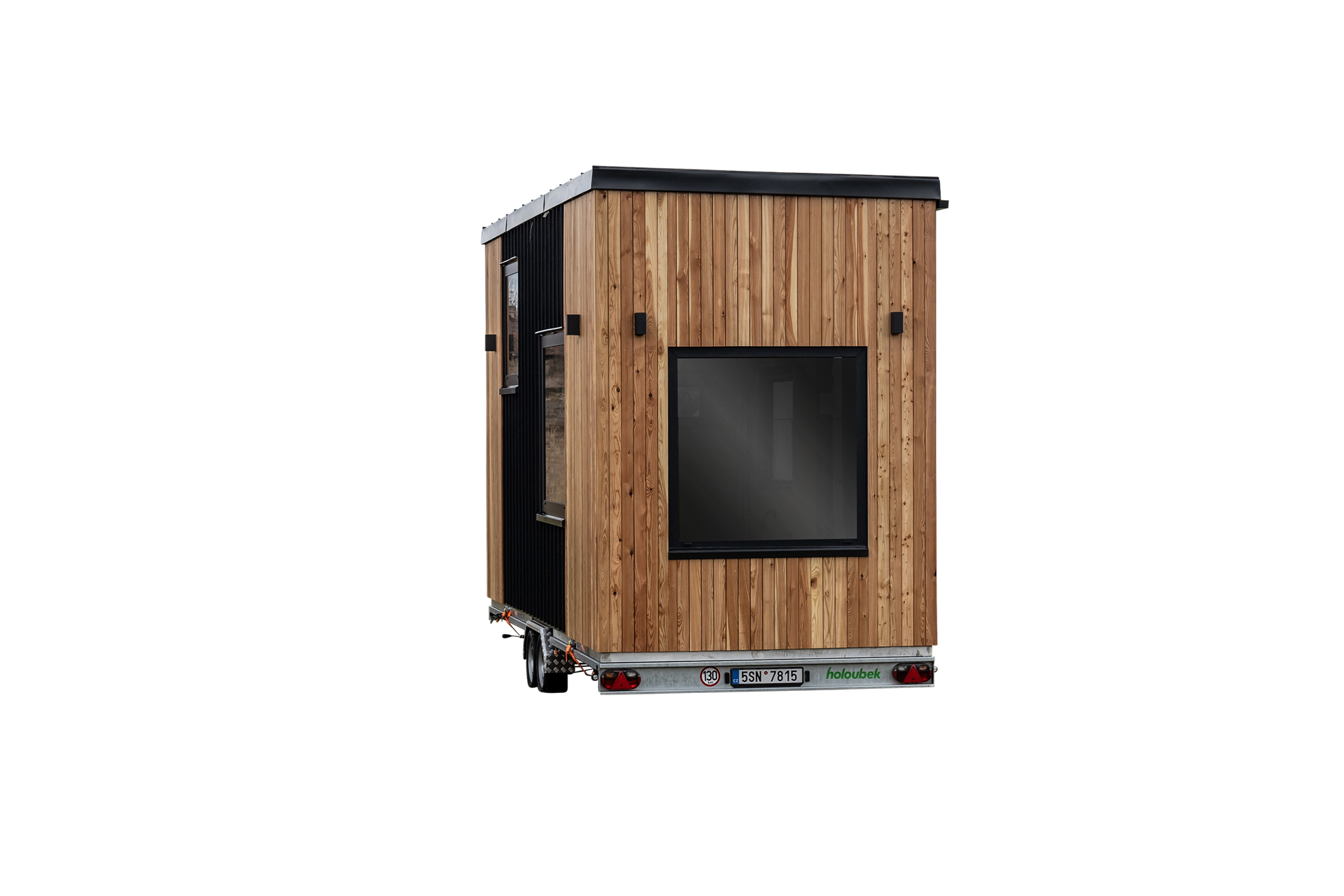 360°
NEO IS PERFECT FOR YOU
You'll get along beautifully
More Wi-Fi than the Matrix
Working smart with energy
Ready for the zombie apocalypse
NEO customized? We will NOT say No, but...
Ecology & Sustainability
NEO is at one with the environment. We use the best materials available including natural materials such as wood for frames and sheep's wool for insulation. The only concession is a little glue and waterproofing. We also avoid plastics, which are kept to an absolute minimum in the design. Even with natural materials, NEO insulates perfectly. Our structural engineer has declared war on thermal bridges, so the house keeps out the cold in winter and prevents overheating in summer. The insulation experts also deserve a lot of credit for this. You save nature and save money on heating costs.
Bright thinking
We put so much effort into the lighting that it's overwhelming. NEO features LED technology that saves energy and your eyes. Most of the lights are low voltage 12 and 24 volts, so if you plug in solar panels or a generator, you'll have no problem lighting up even in the most remote places. A few lights are on 240V so you won't be left in the dark when you are on-grid and don't have power from solar panels.
Charge like a bull
You can charge mobile phones, computers or even toothbrushes without tangling cables and carrying transformers. NEO has USB charging points built in where you need them. It seems like a small thing, but in today's mobile age, it's one cable less to carry.
More Wi-Fi than the Matrix
You wouldn't expect anything other than a top internet connection from a tiny house called NEO. Inside, you'll be covered by WIFI froma router that only needs a small SIM card. And if you find yourself somewhere far from civilisation, you have the option of mounting the router on the roof to improve your signal reception. Stay connected!
Working smart with energy
If you plan to connect to a regular power supply (for example 3 x 25 A), you don't even need to read the next few lines. But if you're going to take power from a neighbour using an extension cord (tyoically 1 x 16 A), you'll only have 3,840 watts. Turn on the hairdryer and kettle, and you're halfway to blowing the fuses. And if you don't have access to thefusebox, you could find yourself out in the cold. But don't worry, we've got your back. NEO uses smart home technology to help you manage your consumption. For example, if your heating is on and you turn on the oven, NEO can stop the heating to reduce poweruse. It can do the same with your washing machine, hairdryer and other energy guzzlers.
Ready for the zombie apocalypse
NEO can serve you well even if you decide to live "off grid", without a connection to the grid. Batteries, a photo-voltaic panel and PB gas will be enough to get you started. If you're serious about going wild, we can help you choose solar power solutions, generators and battery banks.
More than mobile
In the world of tiny houses, caravans and other dwellings on wheels, NEO is simply the only truly flexible tiny house. You can transport it wherever you need to go. It can be lifted off the trailer when you need to take the trailer for an MOT (STK) test. You can leave it on its wheels or place it somewhere permanently. And if you want to lift it onto a truck or boat, that's fine too. It was probably the biggest challenge we faced in development, but the result gives you world-class flexibility.
Living on the water
If you really like NEO but want a houseboat, we'll float your boat. We will help you with the transformation so you can moor it on a river, lake, reservoir or pond. We'll be happy to give you details personally about the options available for a life on the waves.
NEO customized? We will NOT say No, but...
We have a production design that allows us to build houses on a large scale - quite possibly the only one in Europe. This means that some basic structural designs have to remain unchanged. But we can still offer you lots of customisation options, from the look, to the choice of colours, materials and appliances. Do you have your own vision for your home? Let's get together and talk about what we can do for you.
On the move without fear
NEO is designed to be street-legal and pass legal height, width, length and weight limits on the road. So you can tow it yourself behind your car without worrying about how you're going to handle law enforcement with a tiny house on your towbar. By the way, if you don't have a car or it doesn't have a strong enough engine, we'll be happy to help you with transport.
Home at last
Once you reach your destination and decide that this is where the promised land is, we'll help you take the house off the trailer and put it where it belongs. We'll advise you on how to build a solid base for NEO to stand on. And if you decide you don't need the trailer in the future, we'll be happy to buy it back from you.
Technical Data
BUILDING
| | |
| --- | --- |
| BASE FRAME | Aluminium construction providing strength both on the road and on the water, dimensions 6.5m x 2.5m |
| CONSTRUCTION | NEO is a full-size wooden building made of solid KVH prisms, water & heat insulated, ventilated, height 4m |
| TRAILER | Customized steel trailer, two axles, license plate, 3.5t capacity, max. speed 130 km/h |
| ROOF | Aluminium roof with 0.7 mm thick sheet metal, double-walled, ventilated construction |
| INSULATION | Ecological sheep wool insulation 100 mm, vapour and waterproof insulation JUTA |
ELECTRICS
| | |
| --- | --- |
| FLEXIBLE | Neo is ready for different power scenarios |
| SMART HOME | Smart home allows you to control your energy consumption |
| SAFETY | Wireless detectors controllable from a mobile app (Andriod / iOS) - FIBARO, more options for advanced sensors |
| POWER USAGE | Very low power consumption, ready for off-grid version |
| LIGHTNING | LED lightning - 12/24V (ready for installation of solar panels). 5V USB-C charging points |
WINDOWS
| | |
| --- | --- |
| FRAME | We offer aluminium windows in anthracite colour to match the other design features, full wood windows are also an option |
| GLASS | Anti-reflective double-layer windows with UV protector. (Various reflective films and safety glass available) |
| OPENING | To save space in the interior, our windows tilt outwards from the top |
| DOORS | The door has a non-standard height of 220 cm, letting the feel of nature flood into your senses |
Do you have more technical questions?
Peter Tench will answer you
Tiny house, tiny cost
The standard version without VAT starts at
1 450 000 CZK
.
There is only one NEO. Still, you have to make a few choices:
The final price will be influenced by your specifications and current material prices.
NEO can literally be packed with smart solutions for security, electricity consumption, lighting and heating. Choose how much sci-fi you want.
NEO can literally be packed with smart solutions for security, electricity consumption, lighting and heating. Choose how much sci-fi you want.
3
Wheels / ground / water
NEO can literally be packed with smart solutions for security, electricity consumption, lighting and heating. Choose how much sci-fi you want.
The final price will be influenced by your specifications and current material prices.
No obligation tour
Stop by! It would be a shame not to see our tiny house in person