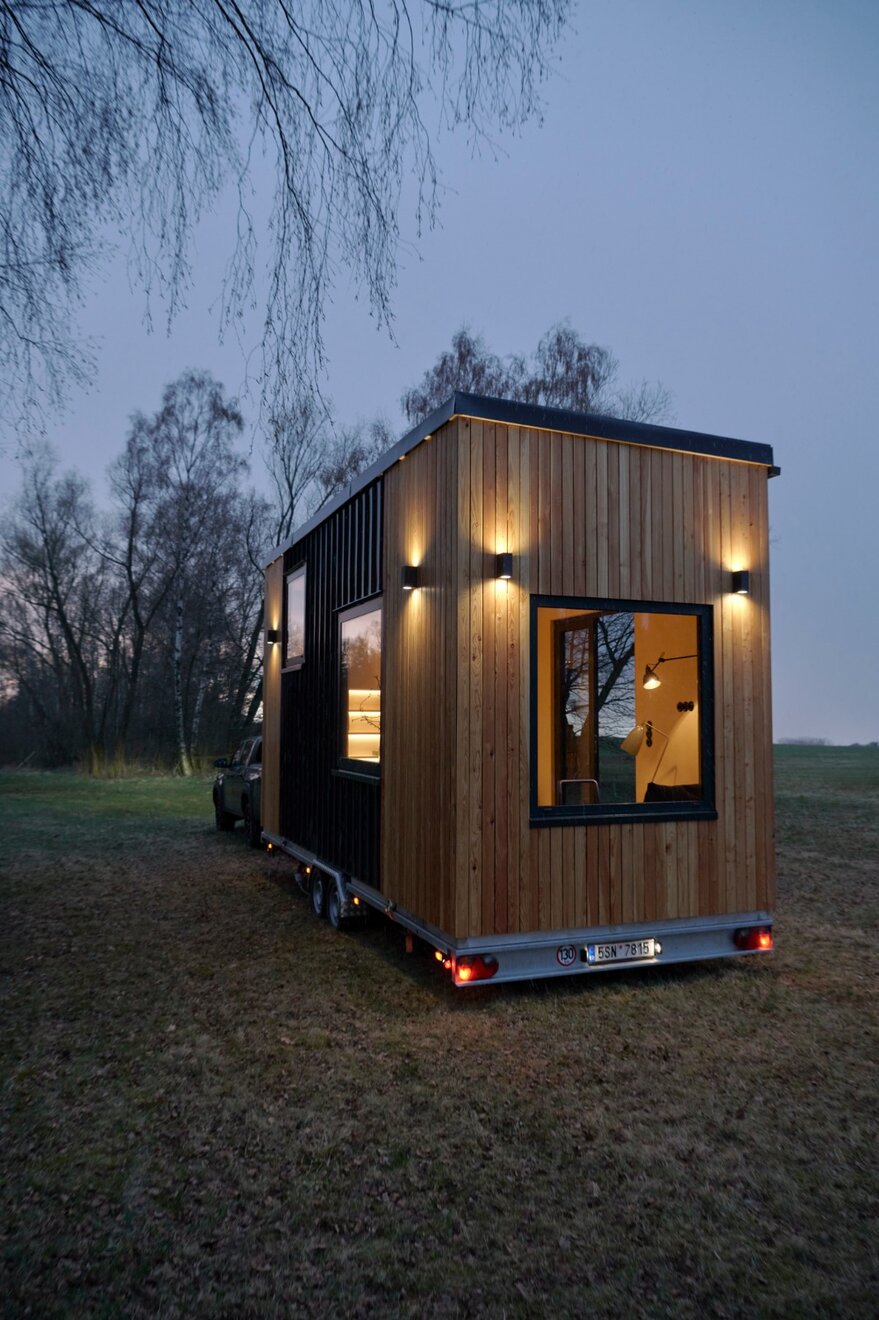 Neo
The possibilities are endless
Tiny domek NEO
Vyniká na kolech, na zemi i na vodě. Osloví vás chytrým designem a vynikajícím řemeslným zpracováním. Získá si vás velkorysým výhledem a použitím těch nejkvalitnějších materiálů. Oceníte i to, že je lehký a zároveň robustní. NEO je prostě NEObyčejný, NEOkoukaný, NEOmezený. Pojďte dál!
SHOW ME MORE
The road to owning a house
Do you want to have your own little place in nature where you can go for weekends to "recharge your batteries"? Or do you work from home and want to change the view from time to time? The road to owning your own home can be much shorter and less stressful than you might think. You can take your NEO anywhere, have it set-up in no time, at no great cost, and with very little paperwork. With or without connecting to the grid, but always in an environmentally friendly way. You don't even have to worry about furnishings - just bring your toothbrush and you're set.
With the NEO tiny house you are in a good place - we created it with a team of experienced designers, architects and builders, focussing on every smallest detail to bring it to life. NEO is the result of our vision to make the world a better place to live, today and in the future.
SHOW ME MORE
Benefits that last
ELEGANT
PERFECTLY OPTIMISED SPACE
AS MUCH SECURITY AS YOU WANT
ENGINEERING EXCELLENCE
MINIMALIST DESIGN
OFFGRID SOLUTION
LESS THAN 3.5 TONS
Handy
ECO friendly and sustainable
Road legal
FULLY CERTIFIED
All you need is your toothbrush
Nové fotografie interiérů
Podívejte se na videa a fotografie interiérů na našem instagramu. Virtuální 360° prohlídka se chystá již brzy.
OUR INSTAGRAM
Tiny house, big vision
There is considerable popular interest in uncluttering your life, living in a way that is environmentally friendly and affordable, yet comfortable. Tiny houses are an expression of that alternative lifestyle, free of clutter and closer to nature.
Our vision is to produce the best possible tiny houses in Europe. And in so doing, we connect the owners of our tiny houses into a community where they can share experiences and share ideas about getting the most from this lifestyle. Our founders Jakub Kolmistr and Peter Tench regularly share how we are fulfilling this vision on our Instagram.
OUR INSTAGRAM